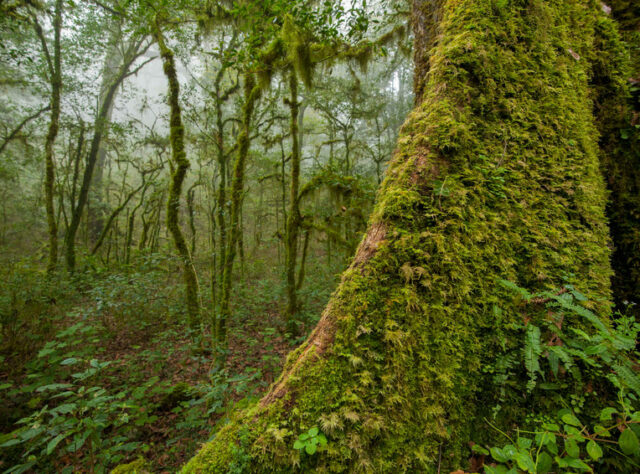 Some of Earth's oldest stories are about people and forests. After all, is there anywhere that we so acutely feel the ebb and flow of life as alongside trees?
Ancient forests and woodlands exist on six of the seven continents – it's Antarctica which is treeless. Borneo's lowland rainforest – also one of the world's most rapidly disappearing – is 140 million years old and just misses out on the top spot held by 180-million-year old Daintree Rainforest, Australia.
In the Barbacoas' forests, this vulnerable terrestrial habitat still has large numbers of the world's most important timber – and therefore threatened – species, including Spanish Cedar, Colombian Mahogany (also known as abarco), and Big-leaf Mahogany. From forest floor to tree canopy, it is home to at risk species, including Critically Endangered Brown Spider Monkey and Blue-billed Curassow, and Vulnerable Lowland Tapir and Grey-handed Night Monkey. Alongside safeguarding these forests, Fundacion Biodiversa Colombia (FBC) are also restoring them with tree species that are, or should be, part of these habitats.
Ancient forests have grown by design
We all have our favourites; from the whispering Silver Birch to the grand Sequoia. Singularly spectacular, together they grow into the most astounding landscapes. Left untouched, they develop into habitats supporting ecosystems for food, shelter, clean water, good soil and carbon sequestration.
For people, this has long fostered a deep and intimate connection between us and these deep-rooted wonders. Think about how many of us instinctively draw – or doodle – trees, or how many of us are currently looking out the window to watch the trees during this difficult and emotional time. With it proven that forests are important for good mental health, during Winter when outside the leaves have burnished and fallen, how many of us opt to bring a tree inside instead? And like other species, we rely on them for food, fuel and shelter. They may not be sentient beings, but their age and size make it feel like they must know a little about what's happened before, and what might be on the way.
Unfortunately, that hasn't stopped people from ransacking this natural resource. It is ok to depend upon trees; it is not ok to extinguish ecosystems to do so. At a time when governments, charities and individuals have pledged to plant billions of new trees worldwide, it was not surprising that the ongoing plans to lay HS2 through the British countryside, destroying ancient woodlands, caused uproar.
Ancient woodlands are irreplaceable.
Not all ancient woodlands are millions of years old. It takes just a few hundred years for these forests to become persistent features of a landscape. They adapt to the soil, vegetation and environment of the region, and become key habitats for biodiverse ecosystems.
With these habitats at risk throughout the world, their protection is as essential as ensuring the planting of new trees. It takes hundreds of years for forests to establish the complex biodiversity that flourishes within them and helps to support neighbouring ecosystems, such as Barbacoas' wetlands. We know that we need new trees – on top of the ones that Earth already has. Younger forests are often planted with just a few species of fast-growing, harvestable trees. The beauty of ancient forests is in their complexity, with varied tree species playing a role within the forests ecosystem.
Deep in the rainforests and woodlands where World Land Trust work, is life exactly as it should be, uninterrupted by industry or agriculture. Together we can keep it that way.