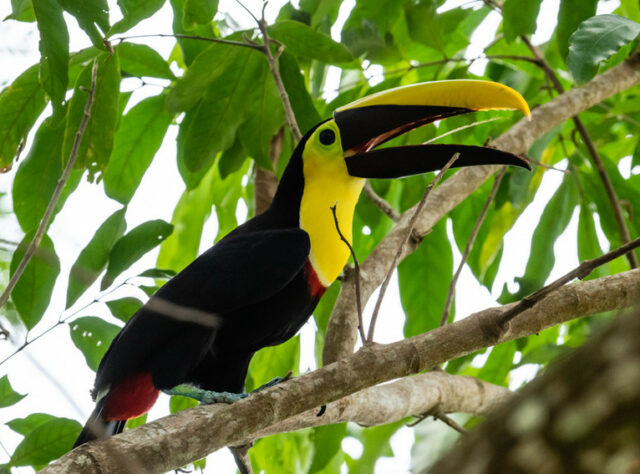 Puro Fairtrade Coffee has kick-started a major appeal to save the Forests and Wetlands of Barbacoas, a mosaic of threatened habitats in Colombia, home to a myriad of rare and endangered species.
"Colombia is the second most biologically diverse country on Earth, containing 10 per cent of the world's species and originally 80 per cent of it was covered in rainforest. Frighteningly, Colombia continues to suffer forest loss at a rate of around 200,000 hectares each year. Recognising the huge threats facing the Barbacoas Forests and Wetlands we got right behind the World Land Trust's (WLT) challenge to save 642 acres (260 hectares) forest and wetland habitat – a big enough area to sustain its life " says Andy Orchard, representing Puro.
The collaboration between Belgian coffee roaster, Miko's Fairtrade brand, Puro, and World Land Trust (WLT) began in 2005 and has led to thousands of acres of threatened forest being saved forever.
To support the Baracoas's Forests & Wetlands protection, Puro has kick-started the appeal by designating £79,000 towards the cost of land purchase and protection.
"For us at Puro we recognise that the Earth gives us everything we need to grow coffee", says Andy Orchard, "be it the soil we take to grow thousands of tonnes of coffee, or water from which we thirstily consume thousands of litres for every kilogram of coffee produced. For the past 15 years we have been committed to paying back the planet by supporting WLT's urgent conservation priorities. Balancing our give and take, protecting the habitat of critically endangered species, whilst preserving key areas for carbon sequestration to help ensure a more positive future for all species on Earth."
Many feared that the tropical forests and biodiverse wetlands of Barbacoas in Colombia would be gone by 2025, but together with Puro and all WLT supporters there is a more positive vision for 2020. It's amazing what can be achieved when we come together.
Puro sources its Colombian Fairtrade shade grown coffee in Nariño, a different region to Barbacoas, nevertheless, its protection further serves as a tribute to the coffee farmers and beautiful biodiverse land they consciously farm.
Puro's Track Record
For the past 15 years Puro has donated 2 per cent of turnover (that's not profit, that's turnover) to WLT which has used the funds to create and extend 11 reserves working with conservation partners in Brazil, Colombia, Ecuador, Guatemala, Honduras, Mexico, Peru and Vietnam.
From the start Puro had a simple message, which they have not strayed from. When first approaching WLT Andy Orchard,  said:
"At Puro we see no sense in industrial growth at the expense of the community and the welfare of our planet. We've aimed from the beginning to assist in every small way we can in halting deforestation but also know that we need to help local people improve living conditions without compromising their natural resources."
Fast forward 15 years and Puro remains committed to leaving an eco-friendly footprint with their every step. With Fairtrade values, love of the natural world and a responsibility to facing up to the climate crisis, Puro have not only supported land purchase and protection, they now offset the carbon emissions from roasting their coffee as well. Their beans are always sourced from Fairtrade co-operatives who bring together hundreds of smallholder farmers who share their knowledge and dedication for growing coffee under the shade of native trees which provide a rich habitat for a wide diversity of species, while allowing local people to work on the land and earn a living.
Since 2005 Puro donations have funded the creation of reserves in Mexico in partnership with Grupo Ecologico Sierra Gorda,  Colombia in partnership with Fundación ProAves, in Ecuador in partnership with Fundación EcoMinga, in Guatemala in partnership with Fundación para el Ecodesarrollo y la Conservación, in Honduras in partnership with Asociación Ecológica de San Marcos de Ocotepeque and in Peru in partnership with Naturaleza y Cultura Peru.
In addition, Puro has supported conservation in Brazil, where WLT works in partnership with Reserva Ecológica de Guapi Assu, and in Borneo, where WLT works in partnership with Hutan and LEAP Spiral.
Recognising the importance of reserve protection and the vital role that rangers play, Puro also funds two Keepers of the Wild.
If you are interested to know more about how your organisation can support World Land Trust, please click here.
More Information
Puro's Partnership with World Land Trust
A Film about Coffee and Conservation
Puro Supporting the Barbacoas'
Through your generosity and the support of Puro we are half way to reaching our £295,000 target. We are extremely grateful for all the donations we are receiving during these difficult and unprecedented times. If you can help us reach our target, to enable us to protect this mosaic of vital habitats, please click below to donate.