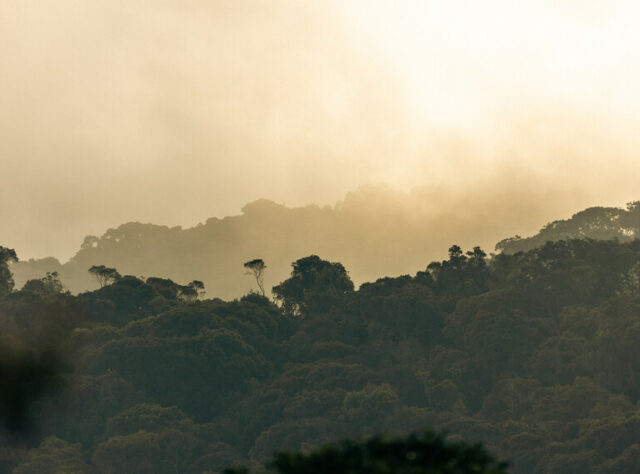 Colombia has some of the largest cloud forests left in Latin America. These are amongst the most biodiverse and highly threatened cloud forests on our planet. But the future of these wet and misty ecosystems is uncertain. Across Latin America cloud forests are disappearing with 10-20% of Colombia's original cloud forest cover remaining. Supporting our new appeal will help protect and restore these forests in Colombia's Antioquia region.
A misty refuge
WLT-partner Fundación Guanacas needs your help to extend and restore the Guanacas Reserve. At the vanguard of cloud forest conservation in Colombia's Antioquia region, the Guanacas Reserve bustles with over 665 species in need of further protection. Together, we can make this happen by extending the reserve by 181 hectares and restore 100 hectares of degraded cloud forest habitat.
At the centre of this ecosystem is water. The word Guanacas itself comes from an indigenous Nutabe and Tahamí term meaning 'sacred water on stone' and the Guanacas stream originates in the reserve. There are 18 other water sources that run through this forest and the damp conditions of this landscape enable many species here to thrive. For example, the Antioquia Chocolate Frog (Hyloscirtus antioquia) is a Vulnerable species of tree frog found only in northwestern Colombia and needs torrents and puddles found in this damp terrain. The mist that clings to the air sustains lichens which are important for the nest-building and dietary habits of many birds, such as the Vulnerable Black-and-gold Tanager (Bangsia melanochlamys).
By donating to Colombia's Forests of Mist appeal, you will help:
Extend the protected area of land by 181 hectares, leading to the total protection of 1,031 hectares.
Restore 100 hectares of vital cloud forest habitat by planting 36,500 native tree species between 2023 and 2028.
Protect the habitat of 665 species, including 15 species on the IUCN Red List.
Employ three forest rangers and one ranger leader from the local community.
Ensure the health and security of vital water cycles.
Offer alternative livelihoods to local people through ecotourism.
Keeping trees standing
The future of this ecosystem is threatened on several fronts. Firstly, cloud forests are particularly vulnerable to the climate crisis. Scientists suggest that warming temperatures are causing strong shifts to the range of species, population declines, and local extinctions. In Guanacas, illegal logging, intensive farming practices, and livestock grazing all threaten to further erase cloud forest in areas adjacent to the reserve. We cannot afford to lose any more of these globally important forests. They need urgent protection and restoration now.
An abundance of endemism
Guanacas is located in the Tropical Andean Biodiversity Hotspot and the project area has high priority status for biodiversity conservation. There are 15 different species recognised by the IUCN as threatened. This includes Oncilla (Leopardus tigrinus) and the Endangered endemic Magnolia species (Magnolia yarumalensis) which is one over 250 plant species living here. This Magnolia provides a habitat for tree frogs such as the locally endemic and Threatened Antioquia Chocolate Frog. Orchid researchers have visited the reserve and found 120 species of orchids here in just a short 5-day field trip.
An oasis for life
The Guanacas Reserve has been described by conservationists as a form of 'oasis'. This is because the reserve is surrounded by areas of agricultural land where water-intensive farming practices are affecting water availability and degrading soil quality. Additionally, due to deforestation, habitat not under the stewardship of our partner is shrinking and increasingly fragmented. Without this land purchase, the area is at threat from being bought for livestock grazing or for agriculture. This would involve more forest clearance. Rodrigo Castaño Díaz (Founder and Director of Fundación Guanacas) upholds that "Fundacion Guanacas exists to defend life." Supporting this project will further the mission of Rodrigo and his team. Your donations will enable the reserve to offer increased protections to mammals like Puma (Puma concolor) with larger roaming areas, offering them safety from human conflict and illegal hunting.
The project does not only save land. Your donations will go towards land restoration, including the planting of 36,500 trees taken from around 26 native tree species. Scrubland will be developed, which is the preferred habitat for the Critically Endangered Brush-finch (Atlapetes blancae) which was – until 2018 – thought to be extinct. Planting more locally adapted trees will also further safeguard water cycles which are vital to the cloud forest ecosystem and the human communities and wildlife living in this region.
Help WLT and Fundacion Guanacas in its mission to "defend life". Protect and restore vital cloud forest habitat by donating today.
Learn more about the appeal here