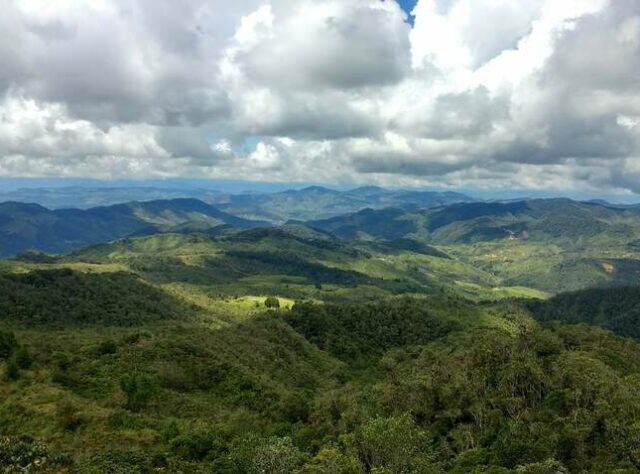 Saturday 22nd April marks Earth Day 2023. Each year, this annual event aims to bring billions of people, businesses, and organisations together to support environmental protection.
The message of this year's Earth Day is to 'Invest in our Planet'. What we do here, no matter how small it may seem, can have a huge impact on conservation around the globe. So, what exactly can we do as individuals to support Earth Day?
1. Support our appeal and invest in the future of a forest in Madagascar
Our current appeal – Madagascar: A Forest for the Future – aims to secure and protect the last remaining patch of natural forest in the Vangaindrano District of Madagascar. This once vast forest is now fragmented and under serious threat of deforestation. As a home to critically endangered lemurs, endemic bird species, and hundreds of stunning plants, it's vital that we preserve this land to allow future generations of wildlife to thrive.
By supporting our appeal this Earth Day, you will be directly investing in the future of this forest. Your donations will go towards the expansion of the existing protected area, the planting of 500,000 native trees, and sustainable employment for 1,000 local Malagasy people.
To find out more about our Madagascar appeal, click here.
2. Calculate your carbon footprint with our online calculators
It's estimated that an average UK household emits around four tonnes of CO₂ each year. Calculating our own individual carbon footprint and looking at where we can make reductions is a great way to take positive action this Earth Day.
With WLT's easy-to-use carbon calculators, you can calculate the carbon dioxide emissions associated with your everyday life. Our four calculators each cover a different aspect of your personal carbon footprint – travel, transport, household, and fixed – to give you a full picture of your carbon emissions and help you work out where beneficial changes can be made.
Each small change we undertake together can make a big difference. Try our carbon calculators today.
3. Plant the right tree in the right place
Reforestation is an important method of restoring ecosystems and for just £5, you can fund the nurturing, planting and protection of a new tree with WLT's Plant a Tree programme.
So far, our Plant a Tree programme has planted over 2 million trees across 5,930 acres. Working with our in-country partners, Plant a Tree protects crucial areas of land at sites that are rich in biodiversity and that support long-term conservation goals.
By making a £5 donation in celebration of Earth Day, you will support our partners throughout the entire reforestation process, from the planting and care of young native trees through to their establishment as a new forest habitat. Each tree you plant makes a considerable contribution to bringing a forest back to life.
You can donate here.
4. Become a WLT Friend
If you want to make an ongoing commitment to conservation this Earth Day, why not become a WLT Friend? Our Friends initiative supports World Land Trust's Action Fund, which focuses on our partners' most urgent projects around the world.
Your regular monthly donations will allow our partners to protect threatened habitats by reacting quickly and effectively to conservation emergencies as they happen, giving you peace of mind knowing your support is always going where it's needed most.
When becoming a Friend, you can choose your donation amount – no support is too small – and we will also update you regularly to keep you informed about the conservation success stories you make possible.
Learn more about WLT Friends and sign up here.
5. Join our London2Brighton Cycle Ride
Are you hoping to set yourself a challenge for the year ahead? Why not make it a fundraising challenge by signing up for the London to Brighton Cycle Ride in support of World Land Trust.
The upcoming London to Brighton Cycle Ride is an iconic 55-mile ride from Clapham Common to the seaside town of Brighton. With a great atmosphere that fosters a real sense of community and some stunning views from the top of the South Downs along the way, the London to Brighton Cycle Ride is a challenge you won't forget. Plus, your support will also help to fund the invaluable conservation work of our partners around the world.
For more information and to signup, visit the London to Brighton website.
Together, we have the capacity to make positive change in the fight against climate change. Even as individuals, there are many ways that we can help protect the natural world. This is the message that Earth Day promotes.
For further ideas about how you can invest in our planet, take a look at the Earth Day website and read their list of 52 actions and tips to do your bit for the environment on Earth Day and every day beyond.