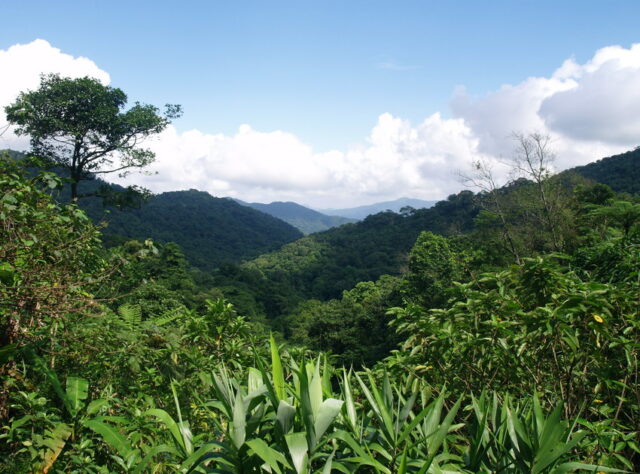 By Dr Catherine Barnard, World Land Trust (WLT) CEO
WLT are aware of the recent Guardian report on the rainforest carbon offsets overseen by Verra, the world's leading standard for the voluntary carbon offsets market. Verra strongly disputes these findings and has issued a response.
We recognise that few (if any) such global schemes are perfect. However, the real issue here is that funding for forest conservation has, for decades, been far below what's required to protect these vital parts of Earth's life support system. People recognise that tropical forests are important, but far too few of us are willing to pay for their protection and provide economic incentives to the countries that harbour these vital habitats, or the people that live within and alongside them.
Time and again, society has failed to act at the required scale or with the required urgency to tackle the interlinked climate and extinction crises. If we sufficiently reduced global emissions and decarbonised our economies, carbon offsets would not be needed; but in the absence of sufficient action from many parts of society, carbon offsets have delivered additional funding for forest conservation and carbon storage where funding was otherwise not available.
In its report, the Guardian contends that the climate benefits of many Verra-certified projects have been overstated. These benefits come from REDD+ activity: reducing emissions from deforestation and forest degradation (REDD) alongside conservation, sustainable management of forests and enhancement of forest carbon stocks (+).
No-one can ever predict with complete accuracy whether a tree or a forest will be cut down, but we have enough information to make informed decisions, and we must not let perfection be the enemy of the good. Rainforests and the people who depend on them need more support, and that costs money. Funding for REDD+ activities has enabled WLT to protect rainforests that would otherwise not be protected, while also providing support to communities in need. We must not lose sight of the big picture and the urgent need to protect rainforests now.
WLT currently provide offsets in four projects supported by the Carbon Balanced programme. Our recent Carbon Balanced reports (accessible here and here) give an insight into the considerable impact that the programme's supporters are having around the world. 52,000 new trees planted in Ecuador; local people paid to protect and conserve their native forests in Mexico; a safe home for the Red-shanked Doug Langur, a Critically Endangered primate in Vietnam; and a wealth of support including jobs, education and healthcare for women and indigenous peoples in Guatemala.
Our partners work diligently on the ground, alongside local communities, to fully understand the unique local scenarios that impact on each Carbon Balanced project. These findings are then used to estimate the carbon emissions that would be produced if the project's REDD+ activities did not take place. WLT's carbon experts work closely with our partners to reassess each project annually, ensuring the climate mitigation benefits produced by our offsets are as accurate as possible.
REDD+ may not be perfect: but in the absence of the support these vital forests need it has provided real results in protecting rainforests, and for this reason WLT will continue to work to refine and improve our Carbon Balanced projects to ensure that we continue to deliver tangible and measurable protection of these vital habitats.