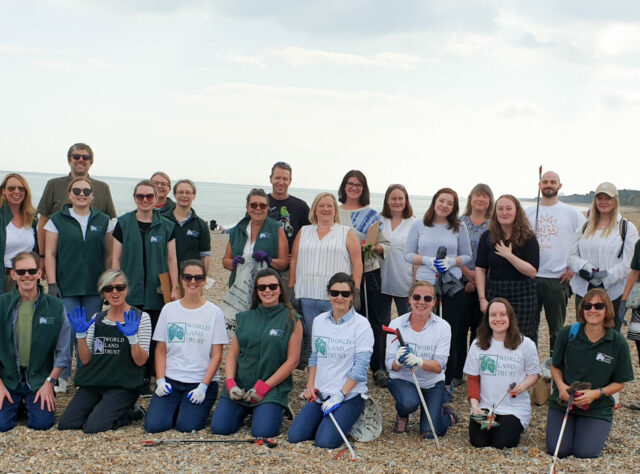 After 18 months of video calls, virtual meetings and remote working, the World Land Trust (WLT) team all got together in person to have a staff meeting and to take part in the Great British Beach Clean. This was a chance not only to do our bit for our local area but to also meet newer staff members like WLT Communications Officer Alice Wojcik, who shares with us her experience of her first 'real life' WLT meet-up in this blog.
Beach cleans and ice creams and absolutely no computer screens were on the agenda for the WLT staff Away Day – but the most important goal of the meet-up was reconnecting with each other after such a long time apart. Nine members of our team joined WLT during the pandemic, including myself, and it felt both surreal and lovely to finally see each other; to chat with people from different departments and learn all about their interests and lives outside of work.
We started the day off in Dunwich Museum Hall with introductions and each got to share a highlight from our year, from becoming a grandmother to new pets to moving houses. It was great to focus on the positive side of the strange year behind us, and I really felt uplifted hearing about my colleagues' lives outside of work. It also came to no surprise that the Trust is full of dog-lovers!
Jonathan Barnard, our CEO, led the team meeting with an update from the executive team followed by news from each department and ending with some exciting developments in WLT (we'll keep you posted!). Dan Bradbury, Director of Communications, then presented information on our upcoming Big Match Fortnight campaign (6-19 October 2021), which we cannot wait to launch in just a couple weeks' time. Most welcome of all, not once was the phrase 'you're on mute!' mentioned during the whole day.
After a delicious lunch on the beach, WLT Executive PA Tracey White briefed us so that we were all beach-clean-ready. After donning gloves, a clipboard and bin bags, we split into groups and were ready to take on the litter.
We scanned a 100-metre section of Dunwich Beach in Suffolk, reporting every single piece of waste we came across and putting it in either recyclable or non-recyclable bags after noting down the category and size of the litter we were finding (this data will be sent to the Marine Conservation Society for their annual survey.) In total, WLT collected 160 pieces of litter and it felt great to be part of the Great British Beach Clean – a dedicated week-long initiative to clean up Britain's beaches between 17 – 26 September.
These beach cleans have been going on for some time, and last year the Marine Conservation Society reported (see video above) that 3.1 tonnes of litter were picked up by volunteers across the UK in 2020. I'm so pleased that we at WLT were able to add to 2021's count: after over 30 years helping our partners and local people protecting habitats in Africa, America, Asia and beyond, it was great to also contribute towards a healthy planet closer to home.
Meeting everyone at WLT in the flesh left me more inspired and committed than ever to working together, alongside our conservation partners and supporters, so that vulnerable habitats and wildlife can be protected. I'm looking forward to what lies ahead for the WLT team, starting with our 2021 Big Match Fortnight in just two weeks' time – stay tuned!
Alice Wojcik
WLT Communications Officer
Do you want to join our movement for protected land? Become a Friend of World Land Trust and make a commitment to conservation by setting up a regular direct debit from as little as £5 per month.