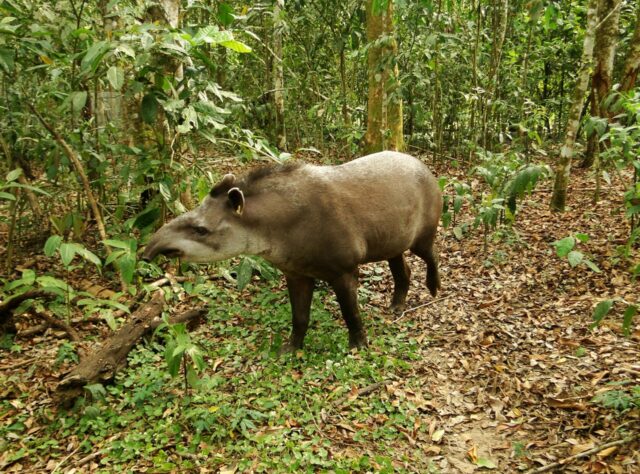 South America's Atlantic Forest is known for its high levels of endemic and endangered species, with 44% of its plants and 30% of its birds found nowhere else on Earth. It is also one of the most threatened forest regions in the world. In Brazil, long-time World Land Trust (WLT) partner REGUA have been working to preserve some of the last 7% of this once-vast biodiversity hotspot. Supported by our Buy an Acre, Plant a Tree and Keepers of the Wild programmes, the REGUA reserve continues to deliver for conservation, and we're excited to now bring you their latest update from the field.
In late 2017, REGUA's reintroduction programme for the Lowland Tapir got off to a successful start. The species had been locally extinct in the state of Rio de Janeiro for 100 years, but now the REGUA reserve is home to a breeding population of South America's largest land mammal! The first calf, Curumin, was born last year and now a second has been captured on camera. Check out the footage below to see the young tapir's distinctive striped and spotted coat.
A young tapir's markings provide camouflage when moving along the forest floor. Credit: REGUA
REGUA's Keeper of the Wild, Rildo da Rosa de Oliveira, has been hard at work tracking the tapirs ever since they were reintroduced. He had more than 20 sightings in the second quarter of 2021, a good indication that the animals are healthy and fulfilling their role as natural seed dispersers.
New tapir "gardeners" as WLT supporters bring new trees to Atlantic Forest slopes
Tapirs, known as "gardeners of the forest" due to their major contribution to seed dispersal, will help restore Brazil's Atlantic Forest as their population here increases.
In this, these long-nosed fruit-eaters are unknowingly joining forces with WLT supporters. Since 2006, donations to WLT have helped to expand the REGUA reserve by 5,614 acres (2,272 ha). You've also funded the planting of an incredible 154,066 trees during this time, and the latest reports make for good reading.
The Plant a Tree plot from 2019 is now fully forested – completing a recovery that REGUA President Nicholas Locke describes as "remarkable". The 2020 plot is also growing well after its third maintenance visit (a £5 donation to Plant a Tree covers the maintenance of the tree for the first three to four years of its life), while planting will begin at the 2021 plot in September. Altogether, these plots have secured crucial reforestation of 54 acres (22 ha).
Increasing the size of REGUA's Atlantic Forest is vital for a great many species. At present the reserve spans 27,375 acres (11,078 ha), providing habitat for a host of animals including 479 species of bird, 120 of which are endemic to the Atlantic Forest.
Also known as the Elegant Mourner, the passerine Brazilian Lanissoma bird is one of these Atlantic Forest endemics and although listed as Near Threatened, an individual was recently spotted by REGUA's bird guide Adilei. REGUA's rangers also enjoy regular sightings of Brown-throated Sloth, but the species has a very low genetic diversity in the Atlantic Forest and will benefit from an expanded range.
Perhaps the most pressing conservation concern here is the Southern Muriqui. Fewer than 1,500 remain, but Rildo often spies these Critically Endangered spider monkeys as our Keeper of the Wild patrols the REGUA reserve. In April, he even spotted a courting couple high up in the treetops. If REGUA can continue with their forest recovery plan – which has already proved transformative – the reserve's flagship primates can strengthen their stronghold here.
Deforestation poses one of the greatest threats to biodiversity and the global climate, but at REGUA, our partner is fighting back.
Here in Brazil, the past two decades have shown that with the right management and the right support, recovery is possible for the world's most threatened ecosystems.
Whether you want to give land the legal protection it needs through Buy an Acre, reforest degraded land through Plant a Tree or fund rangers and their work through Keepers of the Wild, you're just a few clicks away from making a real, tangible impact at REGUA.
Help us make this project an example to all – donate today!