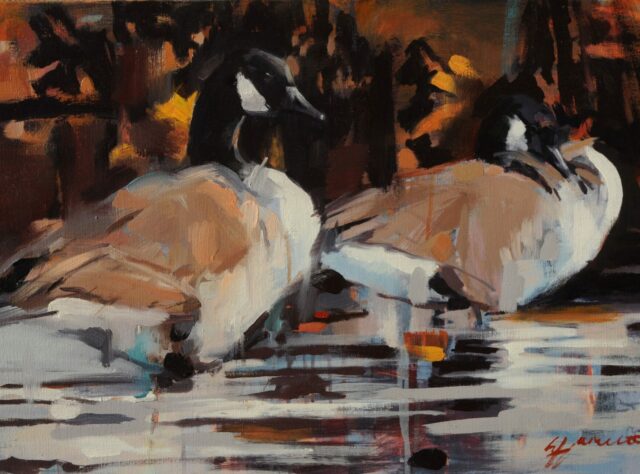 'Heralds of Autumn' – by Lorna Hamilton. Image credit: Artists for Conservation.
Getting creative can be incredibly beneficial to our wellbeing. In these uncertain times we may not be able to travel or enjoy nature as we usually would, but art is a perfect outlet to celebrate the natural environment in a different way. Artists for Conservation's upcoming exhibition is highlighting how we can all experience nature through art.
Lorna Hamilton, a professional artist for over 25 years, has captured two Canadian Geese in her beautiful painting, Heralds of Autumn. This painting is part of the exhibition by Artists for Conservation. The painting will be sold for £1,300 with 25 per cent being generously donated to World Land Trust (WLT).
Lorna mainly painted from photos she had taken, but two years ago she started painting from nature itself. This transition forced her to experience nature in a new way and when she started painting outdoors, it changed her entire perspective. She said, "I eliminated the need for hurry, I was no longer on a mission to get my list of photographs but was simply 'being'. This enabled me to watch, listen and experience in a way I'd never done before. Then what seemed ordinary and uninteresting grabbed my attention, captivated my curiosity and inspired my imagination. And that is the reason I painted the Canada Geese."
Lorna is an Irish artist living in Nottingham, UK. She aspires to help people reconnect with creativity, nature, colour and imagination through her work. Lorna has been a key member of Artists for Conservation for 12 years and has also exhibited with Society of Animal Artists in New York and Birds in Art in Wisconsin. WLT is delighted by her support and shares her passion for creativity and imagination.
Artists for Conservation represents artists from 30 countries in the nature and wildlife genre who are committed to conservation. Lorna's painting is part of an exhibition which is due to tour Vancouver, Florida and China in autumn this year. There is also a virtual 2019 exhibition which you can view from the comfort of your own home.
Wildlife artist, Nick Day, who has a history of supporting WLT with his artwork is also selling his Harpy Eagle painting in the same exhibition for US$2,500 with 25 per cent donated to WLT. The talent, creativity and generosity of these artists are an inspiration to us all at WLT.
The Bigger Picture
Lorna is passionate about the tangible benefits of doing creative activities during these challenging times. She said, "Particularly in this pandemic, engaging in some form of art or creativity can provide a source of either escapism or cathartic release improving an individual's emotional and mental wellbeing. Incredibly, it can also give a sense of belonging and hope, even in this time of uncertainty and social distancing."
WLT also recognises the importance of art and creativity during this pandemic and recently launched the Bigger Picture campaign to encourage supporters to share how they have been connecting to nature with the WLT social media community.
We have had some amazing photos so far and would love to see some more. If you would like to get involved all you have to do is take or draw a photo which represents how you are keeping in touch with nature at the moment and share on social media using #wltbiggerpicture so we can share with the WLT community and spread the appreciation for nature across the world.
Read this blog by World Land Trust CEO, Catherine Barnard, to understand more about why WLT has launched this campaign.