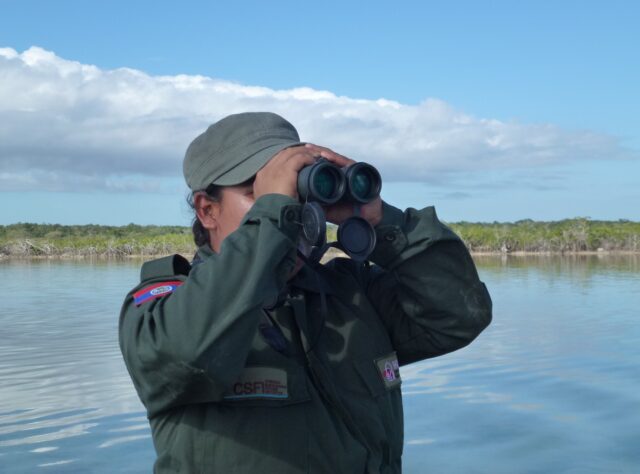 A CSFI ranger carries out essential monitoring in the North-eastern Biological Corridor, Belize. Image credit: WLT/Jonathan Barnard
Conservationists in Belize have been working hard over the past few challenging months to monitor the North-eastern Biological Corridor and protect this important nature reserve from illegal logging.
The North-eastern Biological Corridor  in Belize was created to connect Shipstern Nature Reserve with Freshwater Creek Forest Reserve and Honey Camp National Park. This corridor is extremely important as it allows large animals, such as Jaguar (Panthera onca) and Baird's Tapir (Tapirus bairdii), enough space to move freely between protected areas. This important work is being implemented by the local Corozal Sustainable Future Initiative  (CSFI) , a World Land Trust (WLT) partner.
The CSFI team has worked relentlessly this year to stop illegal logging by detecting signs of it early. They managed to place a permanent presence in the northern and western parts of the Freshwater Creek and Honey Camp area, to prevent further logging around an area where it had recently occurred. They also escorted farmers out of the reserve who claimed they owned the land but had no official documents to prove this.
CSFI is currently working to expand their camera coverage of the area in order to monitor wildlife activities. The current cameras enabled the team to identify a new Jaguar in the reserve, taking the total number of identified individuals to 27.
As in many countries, fires were unfortunately a major issue in April and May and the team spent this whole period fighting fires in several parts of this important landscape. Additional support from the surrounding communities provided relief for the rangers who were fighting fires with very little rest. WLT is supporting CSFI in fire prevention and management during the dry season, when the land is more at risk to forest fires.
Unfortunately, the COVID19 pandemic has put a halt to further developments in the reserve, such as producing more signs to highlight the boundaries and various hotspots. Construction of the new staff facilities was paused for two months, but is now underway again with the aim to complete construction by the end of July.
WLT is delighted that despite challenges, nature is still being protected and cared for by our fantastic partners and their teams. WLT supporters were instrumental in the making of this corridor  by donating to WLT which enabled us raise enough funds to support this ambitious land acquisition. Your support means that WLT never misses these opportunities to help our partners with important work like this. By donating to WLT's Action Fund  , we are able to act on urgent conservation action to protect precious ecosystems like the North-eastern Biological Corridor in Belize.

If you would like to donate to the Action Fund and support vulnerable species and habitats, please click on the button below.