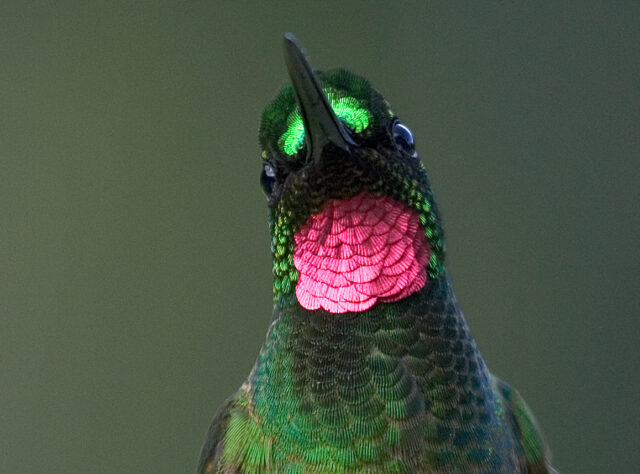 Brazilian Ruby, photographed at REGUA, Brazil. Credit: Thor Ostbye.
By World Land Trust CEO, Jonathan Barnard.
2020 was earmarked as a 'superyear' for biodiversity. While the Covid-19 pandemic may have halted plans for the UN's two global conventions, it has also highlighted just how vital it is for us to protect biodiversity.
Right now, it is more important than ever to talk about, celebrate and advocate for the abundant biodiversity that exists on our planet. The International Day of Biodiversity provides a welcome focus on how and why this fundamental part of life on Earth intertwines with every action we must take to protect wildlife and combat the climate crisis.
While the Convention on Biological Diversity reviews what progress was made towards the 2020 targets (spoiler: not enough), we must now work together to realise the new objectives they set for 2030. Throughout 2019, we heard a loud rally cry from those dissatisfied with the steps – and sometimes lack of action – taken by those in power, which could protect the natural world's future. Last year, IPSOS reported that 85% of Britons were concerned about climate change , with a more recent poll suggesting that 66% of Britons believe that long term climate changes is as serious a crisis as the Covid-19 pandemic.
People are, of course, right to feel that way. Indeed, the relationship between threats to biodiversity and pandemics are well known, as humans and nature come into contact in unintended ways. While the news is, rightly, preoccupied with updates on Covid-19, the pressing issue of climate change rages on. For instance, deforestation is still occurring, with many of our partners working even harder to prevent illegal logging from those keen to exploit the quiet of lockdown. Instead, we should embrace the opportunity to reset, and to invest more into the natural world, to grasp the opportunity to build a better tomorrow. Science is making extraordinary progress, and now is the time to invest in natural climate solutions. This does not only involve technological advances, such as changes to the way we travel. It also includes the measures that World Land Trust supporters enable for our partners, such as land purchase, tree planting and habitat management. These projects marry conservation and carbon sequestration together, ensuring that not only are land and species protected now, but that ecosystem restoration can occur to protect them always.
Lockdown is not the only experience currently uniting us. Another collective yearning has emerged – our need to be outside, in nature. As we've watched it through our windows, or experienced it on our Government approved daily walks, we've also seen nature moving back into spaces that human encroachment had previously prevented. This is nature in action; no us and it, but all moving as one. We've had the simple joy of goats meandering back into Llandundo, Wales – who could forget the charming image of the adventurous roof climbing goat looking into the window of a human home?! Meanwhile, residents in Punjab, northern India have been able to see the Himalayan mountain range – some 100 miles away – for the first time in a generation due to the reduction in air pollution. Even the simple pleasure of birdsong has been magnified, uninterrupted by the sounds of traffic, and the skies are clearer without air trails from flights.
Our behaviour and habits during lockdown have shown that humans can redress this imbalance and embrace the biodiverse relationships that we have taken for granted in the past. Our connection to nature is inherent for both our physical and mental health. Our current #WLTBiggerPicture campaign is highlighting just how essential our connections to the natural world are, from our houseplants to our daily social-distanced walks. By taking five minutes from their day to share the many wonderful ways that they are part of this bigger picture, our supporters are celebrating the many ways in which we are part of nature and part of a complex and biodiverse ecosystem that thrives when nurtured. So as we mark this year's International Day of Biodiversity, why don't you take five minutes to celebrate wildlife and join in our campaign and show how nature has helped you today?