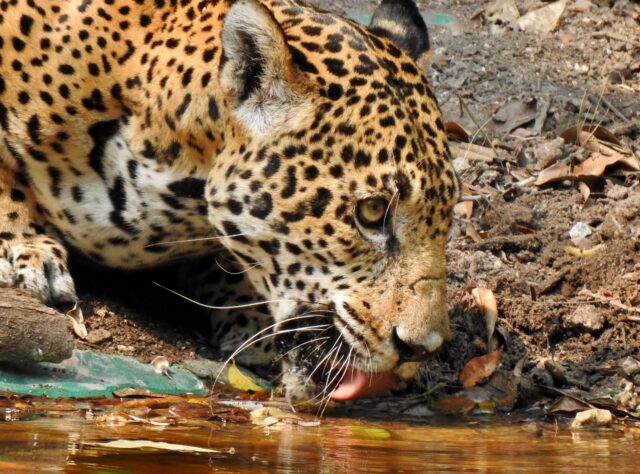 A stunning Jaguar takes advantage of an artificial watering hole in Patén Guatemala. Credit: FUNDAECO.
FUNDAECO have introduced human-made watering holes after discovering that wildlife was putting itself at risk by venturing too close to urban areas.
In the few weeks since the team at FUNDAECO first installed these critical water sources, a variety of species have been filmed making good use of these additions to the forests.
The artificial ponds were introduced as an intervention for species after longer summers hit the Caribbean and saw animals getting nearer to towns, which causes several risks to wildlife and humans.
It took the team just a few days to install each watering hole, and will now become an annual part of conservation, with plans to roll these artificial water sources out across other reserves.
Their successful introduction showcases the efficient and innovative conservation work of our partners. This simple measure has prevented these species from putting themselves at risk and ensured they have access to drinking water during hotter and longer summers.
To support further conservation work in Guatemala, take a look at our Action Fund.

If you would like to donate to the Action Fund and support projects like Laguna Grande, please click on the button below.