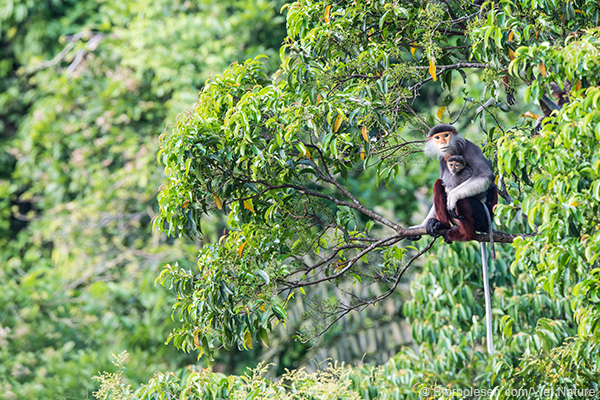 Simon Barnes recalls an encounter with a Red-shanked Douc during his visit to Vietnam.
Our brains are trained to read faces: so much so that we see meaningful faces in clouds, in cracks on the ceiling and in the folds of the curtain at night. So obviously we are going to read human expressions on the face of monkey.
Sure, we know that such readings are about us, not monkeys, but that knowledge doesn't stop our feelings. And as I stood on the Ho Chi Minh Highway, I found myself – with the help of binoculars — staring into the eyes of a Red-shanked Douc that was perched in the branches of a tree, part of a forest that stretched away into the hills.
And in that half-second of imagined eye-contact I seemed to see an expression of such wisdom and sadness that it was like meeting one of great sages of the East. Those eyes had seen it all, all the follies of humankind, and they knew all you could know about the madness of the world.
Then it leapt to another branch and it was just a monkey again, though a rather exceptional one, wearing red trousers, with a long white tail hanging down into space like a bell-rope. The frivolity of those trousers clashed with the gravity of the facial expression.
Here, in such rainforest as we have left in Indochina, the Red-shanked Doucs have their home. They are habituated to the passing traffic and the occasional enthralled spectator on the highway. Elsewhere in Vietnam the forests have gone: bring back forest and the Red-shanked Douc can spread again.
Tell me: if you were living in a place that got hotter by the day, would you deliberately destroy your air-conditioning unit? The rainforests are the air-conditioning plant of our ever-hotter planet. We need more forest, not less: for the Red-shanked Douc, for ourselves, and for all of our great grandchildren.
More information
Contribute to our Scorched Earth to Forest Haven appeal and help us restore and protect the habitat of the Red-shanked Douc. With our partner Viet Nature, we aim to restore lost tropical forests in areas affected by the herbicide Agent Orange during the war in Vietnam 50 years ago.