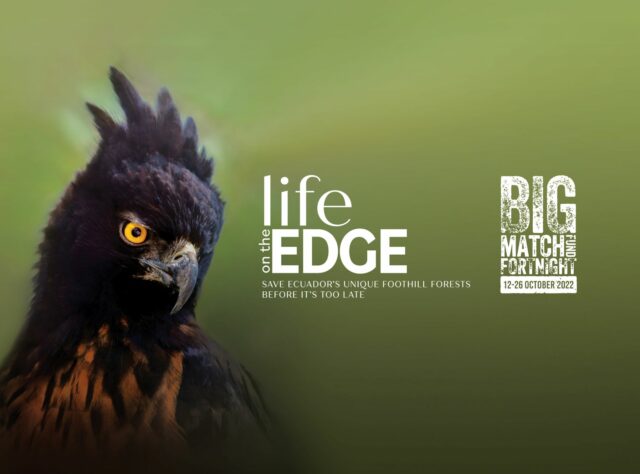 In the last two decades, close to 100 species have been discovered in Ecuador's upper Río Pastaza watershed – including frogs, toads, orchids and magnolias – almost all of them found nowhere else on Earth. A place home to more endemic plants than the Galapagos Islands is now under serious threat from the oil, timber and agriculture industries, but with your help, we can bring the unique life of the watershed back from the edge. And this year, thanks to an historic Big Match Fortnight, you can have an even greater impact on the natural world than ever before.
For the very first time, every donation made during Big Match Fortnight (12-26 October 2022) will be matched to triple its gift value! That means a £20 donation will be turned into a £60 contribution to our Life on the Edge appeal. World Land Trust (WLT) are incredibly thankful to the generous donors who have made this possible by contributing to the 2022 matchpot. Click the link below to watch our appeal video and see what's at stake this Big Match Fortnight.
Our £1.43 million appeal will protect high-elevation cloud forest described by Fundación EcoMinga President Lou Jost as an "evolutionary island". In a place like this, every felled tree has the potential to send highly specialised species spiralling towards extinction.
All around the EcoMinga reserves of Río Anzu and Río Zúñac, forests that may hold species yet unknown to science are being cleared to make way for cattle pasture and plantations of cash crops like balsa wood. The demand for timber poses a constant threat, and the recent proposal of an oil extraction project places yet more pressure on an already depleted ecosystem. With land prices increasing, action must be taken now to save those precious forests that remain.
As a supporter of Life on the Edge, you'll be funding a strategic expansion of Anzu and Zúñac, saving 1,086 ha (2,683 acres) of important habitat from destruction. You'll also join with EcoMinga's other supporters as part of a wider project, ultimately expanding Anzu and Zúñac by a total of 2,073 ha (5,123 acres). This hugely significant move will double the amount of land currently protected by the two reserves and hand a vital lifeline to an array of threatened species, including:
Three EDGE (Evolutionarily Distinct and Globally Endangered) species: Mountain Tapir, Spectacled Bear and Black-and-chestnut Eagle 

 

The iconic Jaguar, including multiple black (melanistic) individuals 

 

An entirely new orchid

genus, Quechua,

discovered at Río Anzu 

 

A toad, an orchid, two magnolias and four frogs discovered at Río

Zúñac

 

 

Anzu's 139 species of reptile and amphibian 

 

The elusive Bush Dog and rare Military Macaw 

 
For more information on the reserves' flora and fauna, watch for updates on our Facebook, Instagram, Twitter and LinkedIn channels, as well as the news section of our website.
Together with EcoMinga, WLT supporters have already safeguarded around 7,000 ha (17,300 acres) of land in the upper Río Pastaza watershed since 2007. Past projects include the expansion of Río Zúñac and multiple extensions to the Cerro Candelaria Reserve. In 2015, the creation of the Río Machay Reserve filled in the last gap in the Llanganates-Sangay Corridor, linking two vast national parks for the first time through a now contiguous network of protected areas. The expansion of Anzu and Zúñac will also expand this important biological corridor, recognised as both a Key Biodiversity Area and an Important Bird Area.
WLT-funded land purchases will connect a currently separated portion of Zúñac with the main body of the reserve, while also strengthening the reserve's connection with Llanganates National Park. Further properties around Anzu will be purchased between 2022 and 2026, with the aim to form a single contiguous protected landscape with six separate nearby reserves. This would connect all these reserves with Llanganates for the first time, allowing wildlife to travel safely between Anzu and Zúñac, which sit either side of the national park.
EcoMinga, in the words of their President, Lou Jost, are "racing against time, trying to buy unique, still-unprotected habitats before these options are taken away from us by deforestation. If we do not act now to save the vulnerable land around Anzu and Zúñac, we may not get a second chance".
Your donations could prove pivotal for rare endemic wildlife like Simpson's Plump Toad, known to exist only in Río Zúñac and the surrounding area, and the four Sciodaphyllum trees discovered here in 2021 that have a home range of just 8km2 or less. Species like these exist on the very edge of extinction, but by supporting our Life on the Edge appeal, you can help to ensure not just their survival, but the survival of so many others that have yet to be discovered.
If you help EcoMinga to expand their Río Anzu and Río Zúñac reserves, you'll be protecting some of the most biodiverse land on Earth from an irreversible fate.
In place of logging camps and monoculture plantations will be well-protected cloud forest, patrolled by EcoMinga rangers who have been funded by WLT's Keepers of the Wild programme since 2011.
We hope you will join us in defending Ecuador's unique "evolutionary island" and its remarkable wildlife. Donate on 12-26 October 2022 to triple your gift value and increase your impact, at no extra cost to yourself!