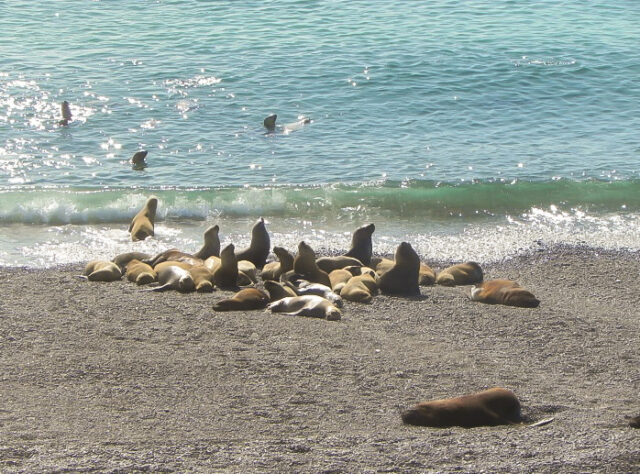 Join us for a photo-journey through Patagonia's wild and wonderful nature reserve – Estancia La Esperanza.
A place of soaring skies and glittering seas, this refuge is home to a great deal of incredible species. With the backing of World Land Trust (WLT) supporters, it was purchased in 2000 and managed by local Argentinian partner, Fundación Patagonia Natural (FPN).
Despite a tough year for conservation rangers worldwide, FPN brings some good news fresh from the field:
1. Black-chested Buzzard Eagle flies free after stint at rescue centre
A juvenile Black-chested Buzzard Eagle took to the skies once more after it was found lying on the shores of Paraná beach in Patagonia with severe malnutrition.
The hardy eagle recovered after veterinary treatment and care and was released in La Esperanza, where it is now free to fly and thrive.
Axel Kuchaska, FPN's Keeper of the Wild explains in the video below that before wildlife can be freed it is essential to carry out an assessment. In this case, a transitional cage was used to closely monitor the bird's health before its release, to make sure it was strong enough to return to the wild.
2. Feline footprints stoke hopes of possible breeding ground
A trio of puma were spotted by FPN's feline monitoring system, a sighting that could herald the exciting discovery of a possible breeding ground at La Esperanza.
This revelation was made possible by FPN's "Huellas (footprints) Project" – a feline monitoring project with the aim to gain a better understanding of the wildlife within the reserve.
These powerful cats are usually a solitary species and only come together to breed, which led the team to regarding the footage from the camera traps as evidence of an area with optimal conditions for the reproduction and care of offspring.
3. Sea lion hotspot as FPN counts hundreds of beach-goers
Earlier this year, FPN rangers were able to marvel at the glorious sea lions basking on the beach.
FPN conducted 15 censuses on sea lions from March to early August – at its peak a whopping 330 individuals were counted, with females far outweighing males at 303 to 27.
4. Whale watching
From May to August, FPN rangers carried out seven population checks on the Southern Right Whales entering the La Esperanza waters – spotting solitary whales, mothers with offspring and mating groups.
A maximum of 10 whales were sighted in the last census of August.
5. Renewable energy
It is not just wildlife rescues and monitoring at La Esperanza. The team have also been working hard to update their renewable energy infrastructure, going on to install a solar pump in the well to unlock a supply of clean water to houses. In addition, a solar water heater was also added to two of the park's shelters – which means that hot water is now flowing to every single building at La Esperanza.
Wildlife protection is at the heart of FPN's work and supporters of WLT's Keepers of the Wild programme have enabled us to fund two of FPN's diligent rangers – invaluable allies for the ongoing management and sustainability work in La Esperanza.
For FPN and all other WLT-backed conservation partners worldwide, there is much work ahead. Donate to our Keepers of the Wild programme, help enlist more guardians to global forests!
If you would like to donate to Keepers of the Wild, please click on the button below