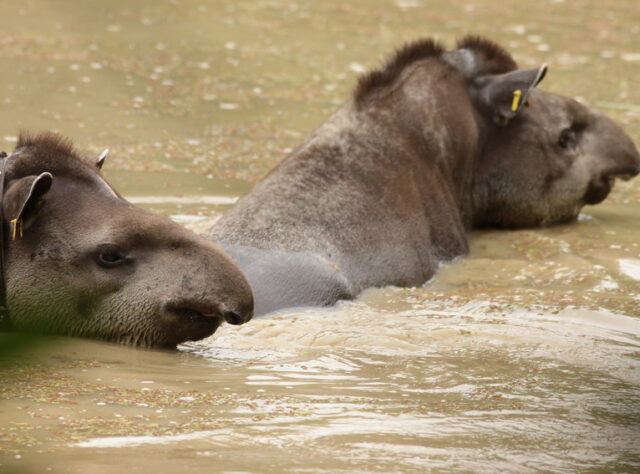 Our Brazilian partner, REGUA, have recorded footage of a Lowland Tapir crossing a river within the reserve, following a reintroduction programme that began in 2017.
Previously, Lowland Tapir had been extinct in Rio de Janeiro for over 100 years after hunting and habitat destruction wiped out the state's population of South America's largest land mammal. However, by 2018, REGUA had released five individuals into a 2.5-acre pen and, as of 2019, nine tapirs were released into nearby forests. This new footage shows how well the tapir are adapting upon their return to these biodiverse forests.
The video was captured by biology students from Celso Lisboa visiting the reserve. They join over 2000 individuals who have undertaken training courses and research at REGUA, leading to long term projects and monitoring at the reserve. Research and programmes such as the tapir reintroduction are vital to ongoing conservation efforts and at REGUA they continue to successfully manage and repair this damaged ecosystem.
Like other fruit-eating animals, tapir play an important role in the health and regeneration of their forest dwellings, dispersing seeds as they traverse over wide areas. For REGUA, this will promote natural reforestation in addition to their tree planting programme, which is funded by supporters including through World Land Trust's Plant a Tree programme.
MORE INFORMATION
WLT have been working with REGUA for over a decade. After an initial land purchase of Atlantic Forest, WLT now provide support for REGUA's intensive reforestation programme and fund essential Keepers of the Wild.