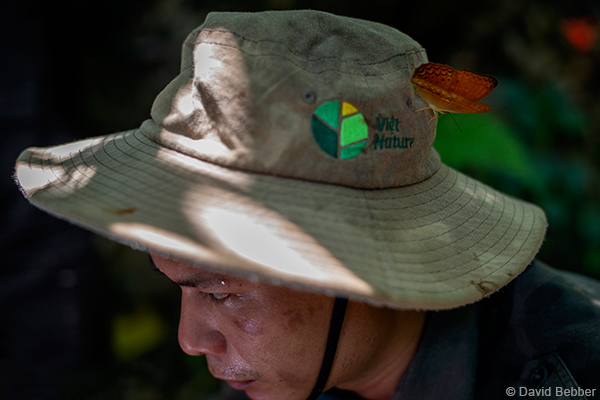 Simon Barnes recalls his visit to our partner organisation in Vietnam, Viet Nature, and their project to reforest lands affected by defoliant.
Back home from school, news on telly, always the same: that over-the-shoulder shot of the soldier in the helicopter clattering bullets all over Vietnam. Then came reports of the new weapon: war not on the people but on the countryside, by means of the defoliant Agent Orange. They killed the forest so that the enemy would have nowhere to hide. That's the 1960s for you: the Vietnam War – and the ever-greater conviction that there was a better way to live.
Here's a fascinating fact about rainforest: its fertility is not in the soil but in itself. Rainforest grows and nurtures itself across countless millennia, to become rich and impossibly various. But if you destroy it, it won't come up again. You have destroyed not just the trees but the system.
I wondered if I had seen this very tract of land, over the soldier's shoulder, on telly, back home from school and ready to start my French homework. I had to scramble to reach it, through what the locals call – grim joke – American grass. All that's left of the forest is enormous tussocks of grass that are no good to man nor beast. All those years since the war – getting on for half a century – and it's still awful.
But a few paces further on, the awfulness stopped. Here Viet Nature are restoring forest. The saplings are now ten feet tall, such brave saplings they break your heart. I was with Pham Tuan Anh, deputy director of Viet Nature. "What do you think of it?" she asked.
"Brilliant. It'll look really nice in 500 years."
She laughed. "Not so much. Maybe only 200."
You have to think like this.
You have to act like this.
More information
Help us support Viet Nature in their essential work by contributing to our Scorched Earth to Forest Haven appeal, which seeks to restore lost tropical forests in areas affected by the herbicide Agent Orange during the war in Vietnam 50 years ago.