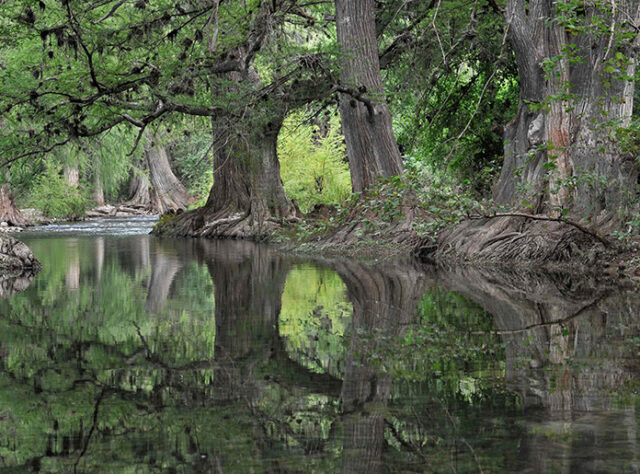 Ancient forests in the heart of Mexico are being lost to illegal logging and manmade fires, destroying trees that are hundreds of years old and a rich habitat home to Mexican wildlife.
 We have launched our latest campaign to raise £57,800 and protect 578 acres of these forests in Sierra Gorda, Mexico, an area the size of nearly 300 football pitches.
The Sierra Gorda mountain range contains many different habitats, including pine-oak forest, tropical evergreen forest, and cloud forest (the most threatened type of forest in the world). These forests contain several tree species that are classified as globally threatened, including the Mexican Royal Oak, Gregg's Pine and the Magnolia Magnolia schiedeana.
Vulnerable Mexican wildlife
They are also home to a rich diversity of Central American wildlife, from one of the world's smallest birds, the Bumblebee Hummingbird, to six cat species including Jaguar and Puma. The area also boasts several rare amphibians, including the Critically Endangered Big-footed Salamander which was thought to be extinct before it was rediscovered in one of Sierra Gorda's caves last year.
Dr Richard Cuthbert, World Land Trust's Director of Conservation, says, "This campaign is part of a decade long programme with our partner Grupo Ecológico Sierra Gorda (GESG), which with the help of World Land Trust's supporters has already safeguarded more than 10,000 acres of habitat. However, Sierra Gorda is over 3,800 km² (more than twice the size of Greater London) and there is critical need to protect this area from illegal logging and fires.
"The aim of our campaign is to purchase a further 578 acres of this incredible landscape and every donation of £100 will save one of those acres."
Threats facing Sierra Gorda
Roberto Pedraza Ruiz, Head of GESG's Land for Conservation programme, adds, "Mexico is one of the top mega-diverse countries in the world. Sadly, human activity has had a severe impact on its ecosystems, and our habitats are being lost to deforestation for agriculture, cattle ranching and manmade fires.
"However, in all the reserves we have managed to create with World Land Trust, human activities harming nature were successfully stopped. From logging in the Canalitas, Hoya del Hielo, Hoya Verde, Cueva del Tigre, and Cerro Prieto reserves, to cattle ranching in the Mesa Colorada, Arenitas and Cañón del Fresno, purchasing land for wildlife reserves has proven it is the most effective way to really affect conservation in endangered ecosystems."
More information
World Land Trust has the opportunity to purchase and protect land in Sierra Gorda, and we need your support to make sure this forest can be saved for vulnerable wildlife.
You can help us purchase this habitat for conservation by donating today to our Ancient Forests appeal. For every £25 donated, our partner in Sierra Gorda will be able to buy 1,000m² and place it under protection. If you can, a £100 donation will protect one acre of this precious wilderness.