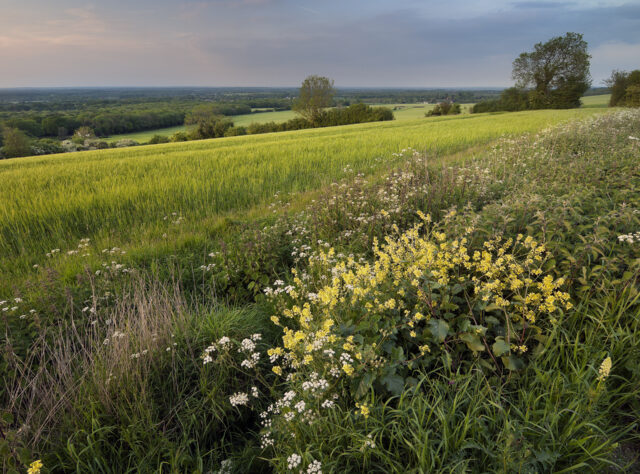 The biodiversity crisis is a global issue and is affecting us all. Whilst we at World Land Trust face up to challenges leading to the global biodiversity crisis, we want to bring attention to the State of Nature 2023 report which details the biodiversity crisis facing the UK.
Nature in dire straits
The State of Nature report is a comprehensive 'health check' of our wildlife and habitats. It examines changes to biodiversity, including the abundance of species, their distribution, and their risk of extinction. Compiled from over fifty years of evidence, a total of 3,897 species including plants, mammals, birds, insects, amphibians were looked at. Not a light read, the report brought a series of stark messages. It found that one in six species were threatened with extinction. It also writes that 95 species of animals, plants, and fungi have already disappeared. This is set within the backdrop of Britain's most important habitats – woodlands, wetlands, and wildflower meadows – being classified as in a 'poor condition'.
Most 'at-risk' are groups are fungi, birds, amphibians, reptiles, and land mammals. Species which are highly threatened include lady's slipper orchids, turtle doves, water voles, European eels, and hazel dormice. Of all animals, birds seem to face the biggest danger, of which 43% of are found at risk of disappearing in the coming decades.
Plants have also taken quite a hit. Over half of Great Britain's flowering plants, mosses and their relatives having been lost from areas where they used to thrive. Heather and Chamomile, two iconic plants in Britain, are now less common. The fate of flowering species of plants also affects pollinators – integral to the reproduction of 80% of the world's plant crops. Pollinator species are already in decline, with 18% of them having been lost since 1970.
Losing nature 'by a thousand cuts'

There are many issues underlying these troublesome findings, including climate change. In 2022, for example, the UK's warmest year on record was accompanied by low rainfall. Mammals such as badgers, moles, and hedgehogs eat invertebrates favour wetter weather and could be threatened by climate change. Intensive farming is also attributed to biodiversity loss. A "combination of technological advancements, the use of agro-chemicals, and changing agricultural policy has reduced the capacity of farmed landscapes to support wildlife", says the report. To change this, well-designed governmental schemes need to be rolled out more widely to support biodiversity in food-producing landscapes
Since 2003, a State of Nature report has been published every few years and is a collaborative effort between over 60 organisations, including government agencies, academics, and wildlife conservation groups. Separate reports exist that focus on the situation in England, Wales, Scotland and Northern Ireland.
Urgent action long overdue
In 2018, government ministers pledged a 25-year plan to protect the UK's natural environment and leave it in a better state than when the government found it. Since then, the UK pledged to ensure 30% of degraded habitats are under effective restoration by 2030 and proposed targets to halt the decline in our wildlife populations. To do this, species populations would be increased by 10% by 2042 compared to 2030 levels. Given that the UK is, today, "one of the most nature-depleted countries on Earth" this certainly lacks ambition.
Encouragingly, the report notes research that suggests, "urgent action can reverse some of the biodiversity loss and damage of recent decades". This can happen through nature-friendly farming, changing habitat management, restoring lost or degraded habitat, eradicating invasive species, and introducing supportive legislative policies. A bigger focus on wildlife corridors by way of hedgerows could connect fragmented habitats and offer safe spaces for species to rest, breed, and feed. People's food consumption habits can shift away from products that degrade nature.
Many successful case studies are outlined in the report showing what can happen when threats to wildlife and habitat are taken seriously. These include projects in Wallasea Island, RSPB-run Hope Farm, the Cairngorms Connect project, and Lyme Bay's Marine Protected Area.
Taking action on our doorstep
The report, though dire, makes us realise that the affront to our natural heritage affects us all. As David Attenborough has said in the past, "if we damage the natural world, we damage ourselves. We are one coherent ecosystem." The biodiversity crisis is a global issue and is affecting us all. Supporting World Land Trust is one way to help tackle biodiversity crises and protect nature around the world. At the same time, it is also important to take meaningful action in response to biodiversity crises on our doorstep. Many people in the UK want to do this, as demonstrated in the recently devised People's Plan for Nature, but may not know how. Here are just some practical things we can do:
If you have a garden, make it nature-friendly, especially for hedgehogs, frogs and toads
Learn how to go peat-free in your gardening
Connect with nature and sustainable food growing by joining your local community farm
Volunteer with your local nature conservation charity
If you are a garden owner or green space manager you can commit to 'No Mow May' to support nature and biodiversity
Provide a home and habitat for butterflies, moths, ladybirds, bees, and other pollinators and insects in your balcony, patio, or garden space
Help monitor nature by reporting species sightings in your area through citizen science projects
If you live in an urban area, you can get involved in community edible food gardens
A full copy of the State of Nature report 2023 is available online in PDF format here.