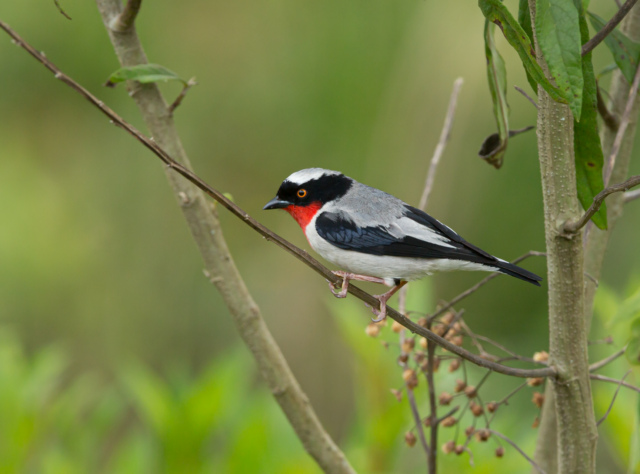 Not seen for half a century, the Cherry-throated tanager was once feared lost forever, its survival jeopardised by widespread deforestation in its native Brazil. ​​Now, Instituto Marcos Daniel is bringing the bird back from the edge of extinction whilst resisting the demise of its native Brazilian Atlantic Forest habitat.
Brazil's Atlantic Forest is home to one of the world's most threatened species of bird, the Cherry-throated Tanager (Nemosia rourei). Though hard to miss with its alarmingly-red markings, their population stands at fewer than 25 individuals. Though a tiny population, their existence is quite remarkable given that they were – until recently – thought to be extinct.

A wonder to science  
Until the late 1990s, there was a serious lack of recorded encounters with the bird by the scientific community. It was thus feared to be an 'endling': the last individual of its species or subspecies which becomes extinct upon its death. But extinction wasn't the fate of the Cherry-throated Tanager. Rather, in 1988, a group of Brazilian researchers found a small population of the bird, once again confirming its existence.  
The survival of the Cherry-throated tanager and the many other threatened species across this region of Brazil is entangled in the story of the waning Atlantic Forest at large. Though the loss of Amazon rainforest is perhaps better known (it has lost 18% of its original tree cover), the extent to which the Brazilian Atlantic Forest has been eroded is greater, with around 93% of its original cover having been eradicated.  
Brazil's most threatened biome 
Between November 2020 and October 2021, the loss in Brazil's Atlantic Forest was not only vast (around 21,642 hectares of forest cover gone), but this equated to over 10 million tonnes of carbon dioxide no longer being sequestered. Of course, the many environmental policies and legislation dismantled under Jair Bolsonaro's presidency was a partial cause of this. But it is also because roughly half of Brazil's agricultural production is in the Atlantic Forest bioregion. The is an area affected by plantations of pine species, eucalyptus, sugarcane, and coffee– goods which are exported to globally–as well as cattle grazing which often involves forest clearance. 
As a result, the Atlantic Forest is regarded as Brazil's most threatened biome. Any forest that remains is fragmented. This makes for less-than-ideal conditions for the species living in the region. It's therefore all the more remarkable that the forest remains among the world's most biologically rich and diverse forests. Its plant life is astonishing – with 8% of all plants on Earth living here. To give a sense of scale, if one was to walk through just a hectare of this forest– less than two football pitches in size– they would encounter around 250 tree species.  
A hotspot for hope 
The Cherry-throated tanager mostly feeds on insects that live under lichen and mosses encrusted onto the aged branches of old-growth trees. Because the Atlantic Forest is so severely degraded, there has been an alarming loss in old forest. The restoration of these aged forest systems is therefore key to the survival of not just the Tanager, but the ecosystem more broadly. Instituto Marcos Daniel knows this all too well, and in 2021 the organisation established the Kaetes Reserve with support from several international conservation organisations.
Today, ​​​​with WLT's support, and in collaboration with the Rainforest Trust and American Bird Conservancy, the IMD is on a missing to extend the Kaetes Reserve by 351 hectares. The area to be incorporated into the reserve bares scars of eucalyptus plantations and is threatened by the serious threat of real estate speculators and illegal land subdivision. This is significantly driven by wealthy individuals seeking to buy country houses as second homes.
Enlargening the reserve will allow younger forest growing around the existing reserve to establish itself with limited disturbance. This is a necessary intervention if the biome is to move closer to restoration. A plethora of threatened species will benefit from this work, including the Vulnerable three-toed Maned Sloth, and the Buffy-headed Marmoset which is found only in this treescape and are important dispersers of seeds. 
The ongoing ecological and extinction crises have had swift and far-reaching consequences. Ecoregions like the Atlantic Forest have taken millennia to evolve. With our partners, we can refuse to accept extinction and restore habitats together.
This specific project in Brazil was made possible by multiple legacy donations which have made possible the protection of a critically endangered species.