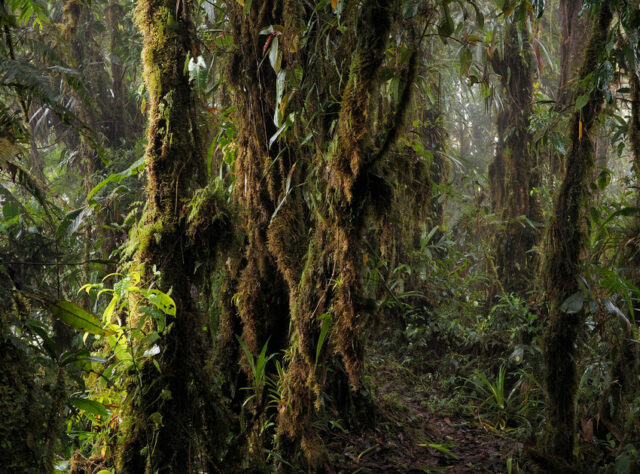 Steve Backshall launched the Rio Zuñac extension appeal for Fundacion EcoMinga at One Wild Night.
World Land Trust (WLT) is delighted to report that a further 82 ha of cloud forest has been protected in the Rio Zuñac basin, following a campaign launched by Steve Backshall, WLT patron, at One Wild Night. The region forms part of the Rio Topo-Rio Zuñac valley in the Upper Rio Pastaza Watershed, with the Rio Zuñac reserve sitting in the foothills of the eastern Andes, bordering the western edge of Ecuadorian Amazon Basin. Plant endemism is high – there are at least 20 species unique to the area, which marks the reserve as one of significant scientific research.
Biodiversity in Ecuador
The reserve also protects a wealth of mammals, eastern Andean birds and amphibian species, as well as being an important site for the regular discovery of species new to science. Alongside the Mountain Tapir, Woolly Monkey and Black-and-Chestnut Eagle, lives Backshall's Toad. The species, discovered by PhD candidate Kelsey Huisman who is researching orchid in the EcoMinga reserves, was named in honour of our patron, who was surprised with the news by Jonathan Barnard, WLT CEO, during One Wild Night.
Cloud Forest is a conservation priority
Steve launched WLT's original cloud forest appeal, Forests in the Sky, in 2015, which protected land around a forest purchased by the community of Machay, Ecuador to support a larger and more sustainable population of animals and birds and provide a corridor for species suffering from encroachment due to logging and poaching.
Cloud forest is unique tropical forest that experiences low-level cloud cover, often exhibiting an abundance of vegetation and moss. They account for just 1% of global woodland cover. We must protect these unique forests and their biodiversity before it is gone forever.
Support for this appeal has ensured another extension to the Rio Zuñac Reserve that will protect more of this precious wilderness, providing safety for its animal life and protected it as a carbon sink in the face of the climate crisis.
Keep up to date with news from our project partners by signing up to receive our monthly eBulletin here.