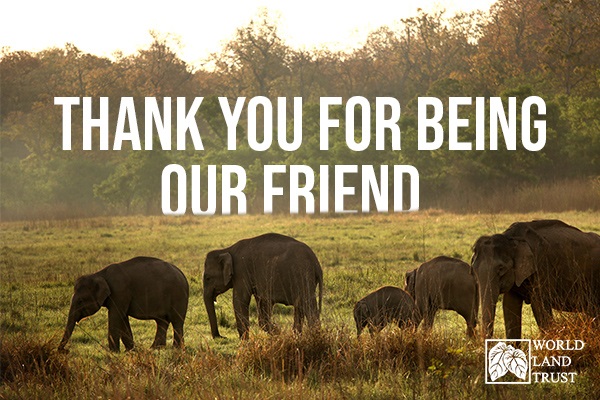 With National Friend's Day upon us, it seemed only fitting that we said a heartfelt 'thank you' to each and every one of our donors. Your support is vital to World Land Trust. Without you, we simply would not have been able to save 774,282 acres, plant 2,167,424 trees or fund over 40 Keepers of the Wild.
There are many ways that you help, from one-off donations to Buy an Acre or Plant a Tree, to organizing fundraising events, right through to those of you who are Friends of World Land Trust, committed to monthly donations. Those regular contributions are the backbone of the charity. Here's three reasons why we couldn't do it without you.
Regular donations allow us to plan ahead and act quickly
Friends of World Land Trust contribute to our Action Fund, which is in place to allow us to respond to urgent situations and to target the root issues of land protection at the source, giving land ownership to our partners precisely where and when needed. This allows WLT to act before situations become unsalvageable, protecting more land for conservation and community.
Your Support is Catching
Regular charitable gifting is inspirational, and often leads to new donors – your friends and family – supporting WLT too. But charitable giving isn't just about inspiring your peers. Children of regular charity-givers grow up understanding the value of donating, especially to charities already supported by the family.
Monthly giving is a powerful statement
At a time when using our voices is of utmost importance, adding actions cements our pro-active stances. Charitable giving is proven to make us feel good – and it should! Generously giving hard-earned money to the causes that matter is an act of incredible benevolence. That generosity is inspiring for charities, as it allows us to reach further and increase the scope and impact of our work knowing that our supporters share our vision and understand how what we do is making a difference.
Every single penny that is donated to WLT is received with gratitude. As we celebrate our 30th year, it seems fitting to acknowledge and celebrate every one of you that has made our work possible.
From all at World Land Trust, thank you!