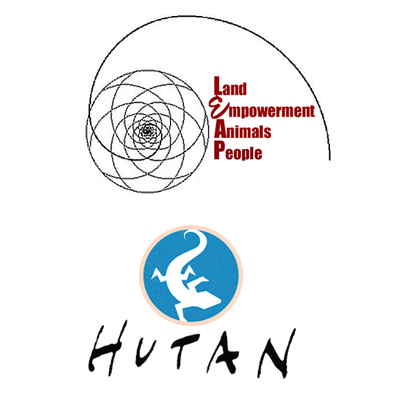 Project Summary
World Land Trust (WLT) has been working to fund strategic land purchases to conserve wildlife corridors for Orangutans and other Bornean species in Sabah since 2008.
Working with partner organisations LEAP Spiral and HUTAN, WLT successfully funded the purchase of 222 acres (over 89 hectares) of rainforest habitat in 2010, to protect a wildlife corridor that connects the fragmented Lower Kinabatangan Wildlife Sanctuary with the Kinabatangan River
In 2012, during a WLT field trip to Sabah, Dr Isabelle Lackman, Co-Director of HUTAN, described to a group of WLT donors exactly how HUTAN could protect a new wildlife corridor for Bornean Orangutans by purchasing small parcels of forest along the Kinabatangan river. It would be possible, she explained, "if only I had a million pounds".
Inspired by Isabelle's vision and motivated by the urgency of the situation, WLT launched the Borneo Rainforest Appeal to secure habitat vital for the survival of the Bornean Orangutan in the wild in Sabah, Malaysian Borneo.
In a landmark achievement, celebrated on its 25th Anniversary in May 2014, WLT raised one million pounds to save the Keruak Corridor, which will link Keruak Forest Reserve with one part of the Lower Kinabatangan Wildlife Sanctuary (LKWS). The corridor was created in partnership with HUTAN.
Biome
Tropical and subtropical moist broadleaf forests
Ecoregion
Borneo Lowland Rainforest
Habitats
Forest that consist of Mixed Dipterocarp Forest, Riverine Forest, Seasonal Freshwater Swamp Forest and Limestone Forest on the Keruak limestone outcrop.
Method for Land Protection
Land purchase & Reserve Management
Biodiversity
Kinabatangan remains a biodiversity hotspot, harbouring a remarkable diversity and abundance of wildlife.
Sabah is home to significant populations of rare, threatened and endemic species such as Borneo Orang-utan, Proboscis Monkey and Bornean Elephant, as well as a wide array of birdlife. About 40% of the 215 species of mammals found in Sabah are considered to be of conservation concern.
Global Prioritization
The wider Kinabatangan floodplain is an Important Bird Area (IBA) and Key Biodiversity Area (KBA), and this area falls within the Sundaland Biodiversity Hotspot one of the biologically richest hotspots on earth.
The Lower Kinabatangan Wildlife Sanctuary was gazetted as the Kinabatangan Wildlife Sanctuary in 1977 under the purview of the Sabah Wildlife Department and the areas is also classified as the Lower Kinabatangan Managed Elephant Range in Sabah, Malaysian Borneo.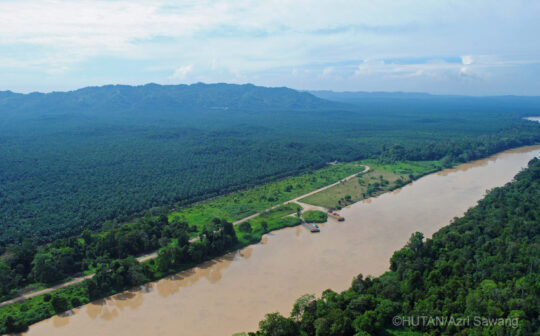 Main Threats to the Area
The Kinabatangan floodplain has already lost 80% of its natural forest to palm oil plantations and further forest degradation of the highly fragmented remaining natural forest areas is now the major threat to the long-term survival of wildlife populations.
Further fragmentation isolates wildlife populations and disrupts wildlife movements throughout the Kinabatangan landscape, especially elephant migration routes. Resulting in escalating human-wildlife conflicts both in villages and large plantations. Additionally, increased human presence in oil palm plantations and tourism infrastructure has intensified the threat of illegal hunting in the area.
Local communities
The Kinabatangan's local communities belong to the orang sungai (lit. river people) tribe. The river is their primary socio-economic asset and the resource they have relied on for centuries to provide their main source of protein, fish.
HUTANs reforestation team is comprised of 10 local women from the village of Sukau who are in charge of planting, maintaining and monitoring seedlings of native tree species. Very few women in Kinabatangan villages have permanent jobs and HUTAN is proud to offer them this opportunity. In addition to 10 permanent staff, HUTAN supports six to ten paid intern positions for month long period to other women from local communities to join the team. As well as learning reforestation methods the trainees participate in a year-long environmental education programme by HUTAN to raise awareness on the need of conserving natural habitat for wildlife.