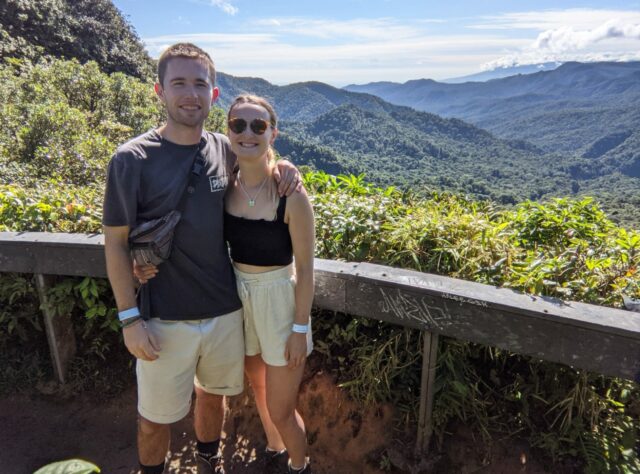 For many of us, to love the natural world is also to want to visit it. But how can we travel post-COVID in a way that doesn't pile more pressure on our ailing planet? How can offsetting and volunteering help us give back to the natural world even as we discover it? We spoke to World Land Trust (WLT) supporters Alex Morgan and Elliot Mitchell about what they'd learned so far after having recently embarked on a two-year journey to see the world in a different way.
What have you learned about travelling with the planet in mind since your journey began in late 2020?
Similar to most people, our vacations had previously been limited to a maximum of one or two weeks away at a time. We really wanted to expand our knowledge of all things environmental and educate ourselves in a way you can't do by just Googling it. We therefore made the decision to slow-travel for two years so that we could immerse ourselves in the cultures and communities of each country, as well as volunteering with projects tackling the climate and social issues we are facing.
With that goal in mind, in December 2020 we decided to leave our corporate jobs in London to slow-travel the world. So far we have volunteered for four months in the UK and spent three months in Costa Rica. We've planted 950 trees, worked on sustainable farms, created habitats for wildlife, and learnt about coral reef regeneration and sea turtle conservation.
We've discovered the amazing experiences you can only get by travelling this way, such as being invited by a fellow volunteer in Costa Rica to spend a weekend up in the mountains, eating fish caught on the day, foraging for giant pumpkins and more!
At a time when many are desperate to be able to go abroad again, how do you think people can rethink the way we travel at this critical juncture for our planet?
We very much feel the conflict between wanting to see as much of the world as possible and keeping our carbon footprint to a minimum.
For that reason we have set ourselves the challenge of travelling from the UK towards Australia via land and sea, without flying. Our trip will focus on trains, buses, ride-sharing and ferries as we want to highlight that travel through alternative modes of transport is both possible and exciting. Take the Eurostar train, for instance – it takes just over two hours to get from London to Paris and carries a carbon impact of 6g of carbon per kilometre vs. 156g for flying, which is 26 times less impact.
We are of the opinion that it is better not to fly but if you must, flying and offsetting is better than flying and not offsetting. When we travelled to Costa Rica we had to resort to flying, so we decided to offset, something we'd never done before. After some research, we went with WLT's Carbon Balanced programme as we know that protection of forests is absolutely crucial in tackling climate change and we wanted something that delivers multiple benefits: land-based carbon projects that benefit climate but also communities and wildlife.
We can't expect everyone to stop flying altogether, but we can promote alternative travel, minimise flights, and offset carbon emissions when we do fly. WLT has a carbon calculator on their website so you can figure out the carbon your flight has emitted and then offset it. If you can afford to fly, you can afford to offset – for example, it costs £8 to offset a return flight from the UK to Spain, and £35 for a return flight from the UK to Costa Rica.
Based on what you've seen in your travels, what potential does eco-tourism and eco-volunteering have to make a difference for the planet?
As a result of human behaviour we are now faced with a climate emergency that urgently needs addressing. We decided to leave our jobs to experience first-hand how climate change is being tackled and share our learnings to help bring about positive change.
Eco-tourism and volunteering are multi-faceted as they can educate the traveller, whilst at the same time providing funds that are fed directly into conservation and local communities. If we are going to continue to travel the world we must do so responsibly, and eco-tourism provides a great avenue to do so.
From our experience in sustainable volunteering we have had our eyes opened to the bigger picture on a wide range of subjects. One of these was gaining exposure to industrial farming and learning how most food in supermarkets is really produced. If everyone knew that bog-standard vegetables are grown using a huge amount of fertiliser that damages the soil, would we continue to buy them? We are confident that if we all knew the truth behind our everyday purchases and practices we would change our habits.
Eco-volunteering is a great way to educate yourself, give back to communities, and gain hands-on experience that you just can't get whilst working a full-time job. It can be a great catalyst for change in your own life, as well as your friends and family. It could even result in a career change through finding a cause you are passionate about.
Keen to travel but wary of the impacts? You're not alone, but the story of Elliot and Alex casts a light on how all of us could use offsetting, volunteering, and alternative modes of travelling to give back to the planet even as we journey through it. You can follow their journey on Instagram (@alexandelliot_).
Our Carbon Balanced programme works with individuals, families and organisations through a three-step process: measure your annual emissions, reduce your emissions at source and offset what's left – saving carbon-rich tropical forests in Guatemala, Mexico, Ecuador and Vietnam in the process.
Start your journey today: browse our Carbon Calculator to start rethinking your footprint on the planet.