Bill Oddie officially launched the World Land Trust's new educational forest conservation website focusonforests.org at the Rainforest Cafe, London, on Monday the 31st of March 2003.
After a presentation about the Focus on Forests website from Peter Taylor of the World Land Trust, Bill Oddie talked in his humorous style about his adventures in the Rainforests of New Guinea, where he faced falling trees and scary drop toilets. A group of students from Halesworth Middle School, in East Anglia, who provided feedback and criticism during the development of the site, came to London especially for the occasion and to meet Bill Oddie.
Focus on Forests is a starting point for anyone wishing to learn more about forest conservation in general, and about conserving tropical forests in particular. It has numerous links to other sites for more detailed research, and hyperlinks explain many of the words and concepts that might be unfamiliar to the user.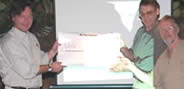 After the launch Brendan Lucey, General Manager of the Rainforest Cafe, presented the World Land Trust with a cheque for £600 to go towards the purchase of a reserve in Ecuador. The money had been raised from 25p donated every time customers ordered Santiago Salmon at the Rainforest Cafe.
Focus on Forests is a joint venture between UK based conservation charity World Land Trust and the Department For International Development. The educational website is aimed at pupils studying at UK's key stage 3 (11-14 year olds), but Focus on Forests will be of use to anyone with an interest in forest conservation.
For more information on WLT's new forest conservation website, visit Focus on Forests: www.focusonforests.org, or see our press release: UK charity and government department launch new website.