Thank you, you've done it again!
We're delighted to announce that the Project Mongma Rama appeal target has been reached.
By raising an incredible £350,000, you've ensured the next crucial stage of WTI's Garo Green Spine project will now go ahead, bringing a multitude of benefits to people and wildlife alike.
The Asian Elephant population has fallen by at least 50% over the past three generations. If we want this Endangered species to survive, we must protect the elephant paths – or mongma rama, as they're known in the Garo Hills of India – that connect their habitats, keeping them safe from conflict with humans.
Since 2003, Wildlife Trust of India (WTI) have been working to do just that. Supported by World Land Trust (WLT), our partner and the A'chik Mande people have secured 4,000 ha of biodiverse forest in the lush northeast of India, creating three elephant corridors that link an entire network of protected areas: the Garo Green Spine.
Potential future infrastructure is placing the mineral-rich Garo Hills at risk of exploitation, but there is still time to act. With your help we can create a fourth corridor, and bring the Garo Green Spine to near completion. Join us today and make a decisive impact for this true conservation success story!
The next phase of the Garo Green Spine:
The impact you could make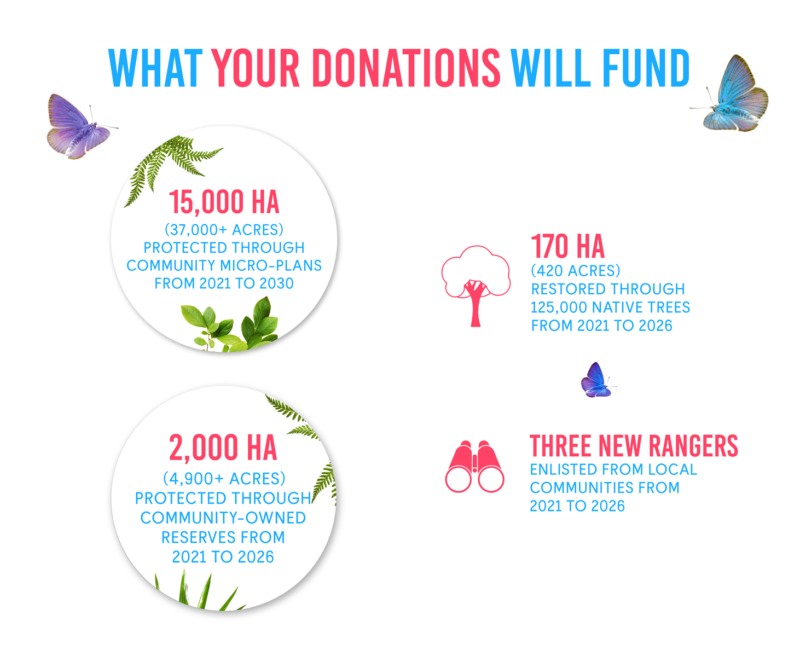 What the overall project will fund
The figures on the infographic represent the WLT-funded outcomes of the next phase of Garo Green Spine but because WTI has also secured complementary funding from a corporate supporter, the overall impacts from the project will go further. Combined, WLT and non-WLT funds will allow WTI to:
protect a total of 4,000ha (9,800+ acres) through community-owned reserves from 2021-2026
bring a total of 35,000ha (86,000+ acres) under biodiversity-friendly community plans from 2021 to 2030
restore a total of 400ha (900+ acres) through a total of 300,000 native trees from 2021 to 2026
hire a total of five watchers from local communities from 2021 to 2026
Discover the life and land at stake in Meghalaya State, "Abode of Clouds"
The Garo Green Spine falls within one of the world's most threatened biodiversity hotspots, the Indo-Burma, as well as high-priority, weighted-endemism areas for amphibians and birds. The project's fourth corridor will also connect two recognised Key Biodiversity Areas, handing a vital lifeline to hundreds of species, including migratory Asian Elephants.
In the two decades that the Garo Green Spine has been active, WLT have helped our partner WTI to establish 20 Village Reserve Forests, all owned by the A'chik Mande who remain the stewards and beneficiaries of these protected areas. 19 watchers have been hired to monitor the reserves and 250,000 native trees have been planted, restoring 300 ha of degraded forest habitat.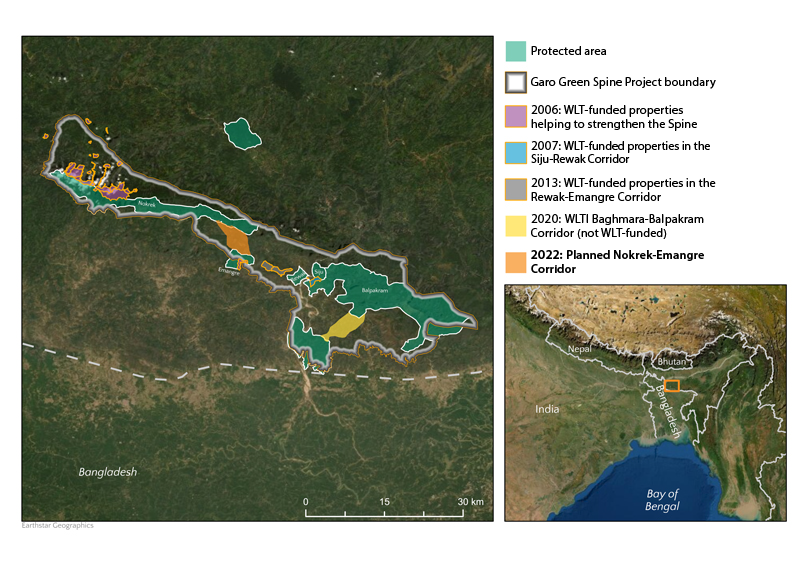 What your donations will achieve
Between 2021 and 2026, WTI aims to establish a corridor of protected land linking Nokrek National Park and Emangre Reserve Forest.
This strategic corridor will be made up of Village Reserve Forests and Community Reserves, owned and monitored by A'chik Mande communities. Both reserve types offer habitats within their boundaries strict legal protection against activities like deforestation and poaching.
If WTI succeeds, an almost completely contiguous network of protected areas will then stretch across the entire length of the Garo Green Spine, almost 50 miles long from east to west. This would be a truly landmark moment in the history of Meghalaya conservation – and you can be a part of it.
And it's not just about the corridor. If you donate, your impact will go even beyond what is shown on this map. The restoration of degraded forest habitat will be conducted throughout the Garo Green Spine, as will the protection of land through village management plans. These plans, designed to foster responsible resource use, will be designed in consonance with wildlife movement and biodiversity conservation.
A future for the next generation
"Expanding the Garo Green Spine will lock in connectivity, preserving a balance where elephant-human conflict is much lower than in other parts of India, because there is enough nature for everyone."
Upasana Ganguly, Head of WTI's 'Right of Passage: Elephant Corridors' project
The corridors of the Garo Green Spine are crucial for many animals, but the one that derives perhaps the most benefit is the Asian Elephant. Both matriarchal clans and wandering males of this Endangered species need room to roam, but with viable habitat and migratory routes shrinking throughout their range, the long-term genetic diversity of the species is now under threat. India's remaining elephant strongholds need all the protection they can get.
Around 1,000 elephants are supported by the Garo Hills and the broader area in which the hills sit. The Nokrek-Emangre Corridor has been planned to maximise the impact on connectivity for these herds, allowing them to travel safely both within Meghalaya and across the border to Bangladesh. This is elephant conservation as it should be.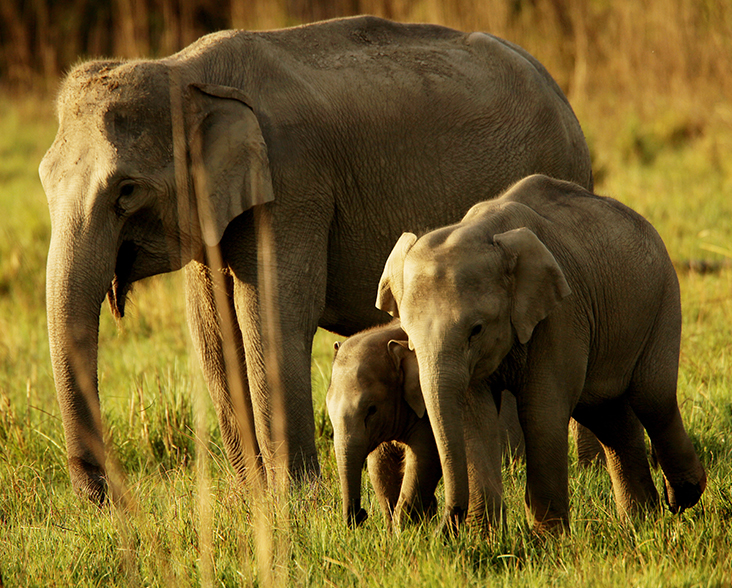 Meet the A'chik Mande, "People of the Steep Hills"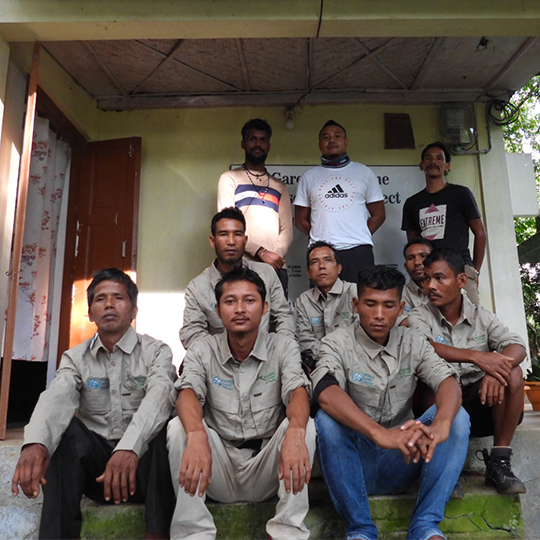 The A'chik Mande have played a central role in the Garo Green Spine project since its inception, building on their centuries-old traditions around the communal and sustainable management of forests. This, coupled with their respect for the elephants they share the land with, has played a big role in keeping conflict levels low.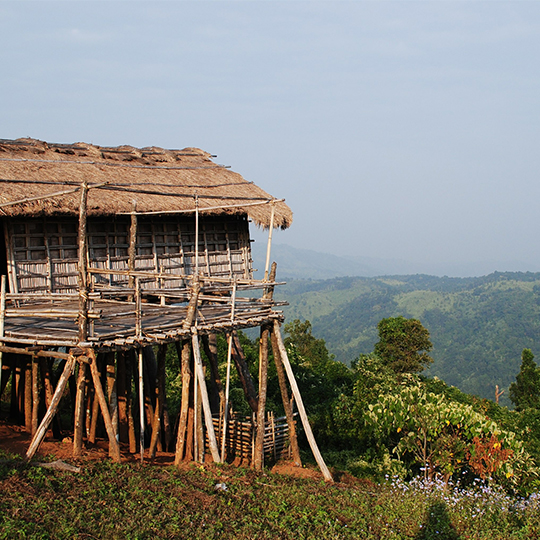 Nevertheless, elephants do still encroach on villages from time to time – damaging buildings, trampling crops – and so new corridors that keep them away from human settlement will always benefit the A'chik Mande. This, however, is far from the only positive that the Garo Green Spine has brought.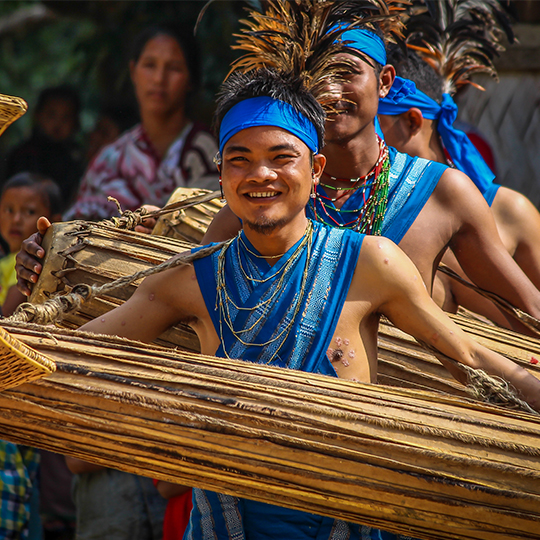 WTI have taken great steps to help the A'chik Mande preserve their autonomy and way of life, while also providing healthcare, education, and sustainable livelihood support. Hearing aids and sanitation facilities, beekeeping training and legal support, poultry farms and motorboats; WTI have gone above and beyond over the last 20 years, and this next project promises yet more community uplift that you can directly fund with your donations.
The Garo Green Spine supports high biological diversity, including 206 bird species, 124 fish species, 85 mammal species, and 62 reptile species. This is a place known also for its flora: Nokrek National Park is home to more than 1,500 species of plant, and the wider area is important for the genetic diversity of wild Citrus species.
One of Garo's most distinctive residents is the Western Hoolock Gibbon, an Endangered species for whom forest connectivity is particularly important. As an arboreal species, India's only ape is vulnerable to predators when on the ground; each tree lost is another step closer to extinction.
The forests of Garo also harbour the Chinese Pangolin, a Critically Endangered target of the illegal wildlife trade. Clouded Leopards and Sambar Deer find territory aplenty here, while Great Indian Hornbills – whose numbers could shrink by up to half in the coming decades – are among the many birds that roost among the trees.